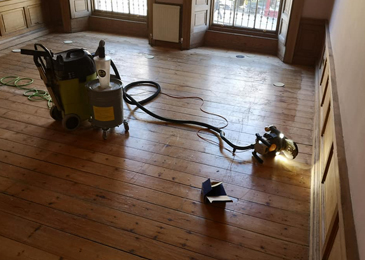 Floor Sanding Near You & Wood Floor Refinishing Service
LSJ Floorworks is proud to deliver a high-quality floor sanding service to the people of Scotland and around the UK. What sets us apart from other companies is our consistently excellent service, impeccable reputation and many years of experience.
More Than A Local Floor Sanding Company
No job is too big or too small for our fantastic team, who in some cases have been working on wood floors for decades. Always friendly and approachable, if you have any questions or queries we'll be happy to help.
We are passionate about floor restoration and make it our mission to reinstate beautiful wooden floors that may need a bit of TLC. As professional restorers, we don't just aim to deliver a quick job with average results, but to give your floors a whole new lease of life.
What Floor Sanding & Refinishing Services Do We Provide?
We provide a highly recommended service for:
Hardwood floors
Pine floorboards
Parquet flooring
Repairs: Parquet, pine, hardwood
Staining, oiling, colour oiling, hardware oiling, whitewashing, clear lacquering
And more!
Do I Need My Floorboards Sanded?
Whether it's a previously sanded or unsanded floor or old floorboards that have fallen into disrepair or never even been sanded, you only have things to gain from hiring us to sand your floor.
Some of the benefits of sanding include:
It makes them look finished
Repair work gives the floor strength
Without sanding your floors after installation (unfinished flooring), they simply don't look finished. Whatever your vision for your floorboards, you're probably picturing them after the sanding process is complete and floor finish has been applied.
Regular maintenance helps keep wear and tear to a minimum and keeps your floor looking its best for as long as it can
Every time you drag an item of furniture across your floor, walk across the room with shoes on, or the sun shines brightly (UV damage), it's creating signs of wear and tear on the surface of your wooden floor. One of the best features of any type of flooring is that you can refinish them at any point, and they'll look as good as new.
Extends the life of your floor
Simply put, your floor will last longer if it's sealed and protected. It keeps the floorboards from incurring severe damage and helps keep pests at bay.
Creates a safer environment
It's important to get your floor sanded for safety reasons. The sanding and finish act as a protective coating that prevents splinters, which can be painful.
Makes it easier to keep your floor clean
Dirt and dust won't stick to sealed floors as it does to exposed floorboards. Sanded floors are also easier to hoover and mop.
Why Choose LSJ Floorworks?
Sanding can be a frustrating and challenging process, and it is not recommended that you try it if you haven't received proper training. Not only do we have all the equipment required to complete any job (drum sanders, belt sanders, planetary sanders, finishing detailers, extraction, buffers, intercoat abrasion, for example) and to sand your floors by hand, but we have the skills to complete your job to your specification.
This means that we feel confident that we can meet your needs to a high standard, whatever your requirements. We see each and every one of our customers as unique individuals and endeavour to deliver a service that is bespoke to their requirements.
Please get in touch with us today to discuss your needs. We look forward to hearing from you!