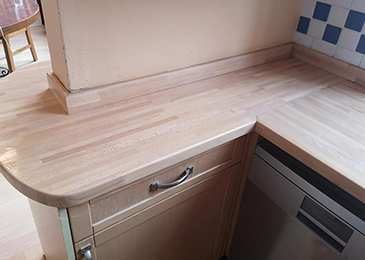 Restoring Wooden Kitchen Worktops - LSJ Floorworks
Professional Worktop Sanding & Wooden Worktop Restoration
Are your wooden worktops looking old and worn out? Have your solid wood kitchen worktops gone from your pride and joy to the bane of your life? Our professional worktop sanding service could be just the thing you need.
Why Worktop Sanding is Essential
We know how easily expensive wooden worktops can get damaged. Whether it's staining from your child's meals, scratches, burn marks, watermark rings or even water damage, there's a whole array of problems that can negatively affect the look and quality of your worktops.
Fortunately for you, there's a way to get those wooden worktops spruced up and looking as good as new once again.
LSJ Floorworks can restore your worktops to the highest professional standard, giving your kitchen worktops a high-quality finish that will look fresh for years to come. We specialise in restoring wooden worktops, oak worktops and kitchen worktops, so whatever your need, we can guarantee a quick and easy fix to get those worktops looking back to their best.
Isn't It Easier to Just Replace the Worktop?
You might hear from some businesses or salesmen that replacing your wooden worktop is the best solution when it comes to damaged worktops. They'll try to convince you that a whole new kitchen is the best way forward and that you'll save a whole lot of time and effort that way. Don't listen to them!
Replacing a wooden worktop, especially a kitchen worktop, will be a whole lot of hassle with a hefty price tag on top. Most worktops are connected to other integral parts of the kitchen, such as the hob or sink. Tiles will become loose and have to be removed, silicon sealing will get ripped out, and it will be a complicated and messy job.
By smartly investing your money in a professional worktop sanding and restoration service instead, the work will be done in no time at all, and the price won't be nearly as much. Plus, your kitchen worktops will be just like new at the end of the day.
What Are the Benefits of a Professional Wooden Worktop Sanding & Restoration Service?
Spending your hard-earned money on a professional wooden worktop sanding service may seem like a waste. Maybe you're considering doing it yourself, or perhaps you're still eager to replace the worktop and get the whole thing over and done with.
Before you do that, let us outline some of the main benefits of going for a professional wooden worktop sanding and restoration service:
Minimal disruption to your home, saving you both time and money in the long run.
There is no need to call in other tradesmen like plumbers or tilers at additional costs – we provide one service that will get the job done.
The original look of your wooden or kitchen worktop will be fully restored for a fraction of the price that it would take to replace the worktop entirely.
Fall back in love with your wood worktop as if they were just bought brand new.
Not only do wooden worktops look great, but they have additional benefits which you may have forgotten, such as:
Antibacterial and natural properties
Breathable
Choice of finish
Durable and hard-wearing
Environmentally friendly
What Materials Do We Use?
Our robust sanding process is designed to protect your worktops from further damage and wear and tear. We use the finest German machinery to refinish any timber worktop surface.
We'll commence the sanding process, ensuring we're abiding by all health and safety recommendations. After we gently sand down your worktop, we close the grain off the whole surface until finishing starts, working out any especially rough or damaged patches via our expert hand sanding service, which utilises the very best sandpaper and extraction tools on the market.
After this, we will wipe down the wood worktop thoroughly, collecting any dust or debris before beginning the oiling process.
We will then use a lint-free cloth to apply oil to create that coveted smooth, light finish. The type of finish we use will depend on what finish you are after and which type of wood worktop you have in your home. We have a range of natural oils, hard wax oils to choose from, all environmentally friendly, food-safe for worktops, 100% naturally plant-based, and of the highest quality.
After the first coat dries, we will re-oil the surface multiple times. Applying several thin coats of worktop oil is far more effective than one thick layer, as this can become sticky or overly shiny if done poorly. Re-oiling your solid wood worktops is an essential and delicate process that we take pride in doing.
Although we are confident in our oiling process, we are always happy to take them on board if you have any special requests in terms of oil type, colour or finish.
Although this may sound like a lengthy process, it will usually only take us one working day to fully refinish your kitchen worktops. We pride ourselves on being quick, efficient and professional.
If you are interested in having your kitchen worktops refinished, don't hesitate to contact us and get a free quote from our expert team. We look forward to hearing from you soon.
Worktop FAQs
How should I care for my worktop after restoration?
To clean your worktop safely, warm soapy water and a soft cloth is all you need. Avoid anything abrasive, like a scouring pad or harsh chemicals.
Never put a hot pan directly onto the surface – this will cause scorch marks. Always clean up any liquid that has spilled onto your worktop, as leaving pools of water can damage the surface.
To keep your worktop looking its absolute best, oiling regularly can make a huge difference. You can do this yourself, or call in a knowledgable professional team, like L&J Floorworks.
What are the signs my worktop needs to be restored?
There are many tell-tale signs that your worktops need restored. These include:
Surfaces are patchy and uneven
Discolouration and staining
Scorch marks from pans or trays
Marks and swelling due to water damage
General wear and tear (dents, chips, scratches)
Flaking lacquers and top coats
Knife marks – from cutting directly on the surface rather than using a chopping board
Black mould or rotting
Acidic damage
Harmful cleaning agent damage
Wood bleaching from the sun
Can I restore my worktop myself?
It's possible, however, we would not recommend it. Extensive research is required before attempting any kind of DIY on your worktop. Wooden surfaces can look fantastic, but when they're poorly restored it's very noticeable. Please bear in mind that any accidental damage will cost you more money and time in the long run.
This is laborious and time consuming work – ensure that you have the patience and knowledge before you begin. We always recommend hiring a professional team in to work with your surfaces.
To revive your worktop, you could start by giving it a light sand. It's best to use a machine, but you can do it by hand if you're cautious. If you choose this option, use a sanding block so you get a flat finish.
Start by using a coarse grade, and then move to a finer grade. Make sure you're working in the same direction as the wood.
After you've finished, use white spirit to clean your surface and remove any excess dust. Always use a dust mask when you're completing this process.
After sanding, apply oil. It's imperative that you choose the right oil product for your worktop, as using something inappropriate can cause patchiness. L&J Floorworks has an extensive number of products that we can match to your worktop, so if you choose our team you can be sure that your worktop will look as good as new after the oiling process.
Why Should I Choose LSJ Floorworks?
If you choose LSJ Floorworks, you're choosing a knowledgable, experienced and friendly team who pride themselves on delivering fantastic results.
We always centre the customer in everything we do; and so, whatever you need, we're confident that we can work to your requirements.