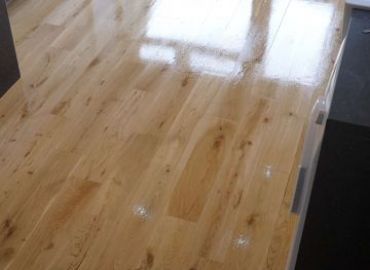 Parquet Floor Sanding, Restoration & Sealing, Fife
Stylish and classic, parquet floors have become one of the most sought after features in today's interior design market. Their distinctive and versatile aesthetic creates an impact in any space, leaving an impression on your visitors and creating an authentic, rustic environment.
Beautify Your Home With Parquet Flooring
LSJ Floorworks are experts in parquet wood flooring, installation and restoration. As a floor sander by trade, we have the skills and resources for sanding parquet flooring, ensuring your parquet is maintained in the best condition possible. As a well being a local trusted and loved company, we feel confident that we can deliver quality installation, absolute floorcare and first-class restoration meeting all your specific requirements.
What Is Parquet Flooring?
Parquet flooring is made from small solid wood blocks (known as parquet blocks) that are arranged to make a geometric shape or pattern. Commonly, the blocks are positioned in triangular, rectangular or square shapes with distinctive angles. You can choose from a wide range of patterns, including classic Herringbone, Brick Style, Ladder, Basket Weave and Chevron.
If you're considering parquet for your home, it's very important that you hire a well-trained professional to lay it, like the team at LSJ Floorworks. While some types of flooring can be laid by an experienced DIY enthusiast, parquet is particularly challenging because it acts almost as a mosaic. In order to create the desired effect, the blocks must be arranged precisely and without error.
Why Choose Parquet Flooring?
Parquet flooring has a long and opulent history. Originally a replacement for marble, this flooring style came to be popular in France in the 1600s and has continued to be a popular choice for homes and businesses ever since.
It's highly versatile
Whether it's for a dining room or a kitchen, parquet is highly adaptable for any space. With so many design options, each floor is unique – in both pattern and texture. Both natural and engineered wood can be used, depending on your preference.
It's long lasting
Professionally installed and properly maintained parquet flooring can last an entire lifetime. While many people find themselves regularly replacing frayed carpet or peeling laminate, parquet should last decades with the right care.
Simply put – it looks fantastic
If you want a wood floor that makes an impact, with history and character behind it, parquet is for you. Whatever pattern or colour you choose, parquet is a timeless feature that will never go out of style.
How Do You Lay A Parquet Floor?
Laying a parquet floor isn't like laying laminate flooring or even a regular hardwood floor. It takes thorough planning and contains several other prior stages that we'll take care of from start to finish.
Broadly speaking, laying parquet involves three stages –
Subfloor Preparation: In order to lay your floor evenly, we must make sure your subfloor is perfectly level. It must be stable and strong. If we're laying on top of floorboards, we'll first install an additional layer of wood to level it out.
Parquet Floor Fitting: Our team will carefully create the pattern of the blocks on top of this strong foundation, usually using a tongue and groove system.
The Finish: Parquet floors do not come sanded, so we use specialist sanding machines to create the perfect finish. High-quality sanding keeps your parquet looking stunning and protects it from damage and premature signs of ageing.
A Range of Design Choices
As with many hardwood floors, the advantage of using the highest grade natural wood is that you have a wide variety of colours and textures to choose from. Some popular choices include:
Oak
Walnut
Maple
Ash
Merbau
Teak
Cherry
Mahogany
We also offer a diverse range of pattern choices, including:
Basket weave
Brickwork and ladder
Chevron pattern
What Are the Signs that Your Parquet Floor Needs to be Restored?
If your wooden floor is showing signs of the following, it's time to call the experts in.
Major scratches
Denting
Splinters
Cupping – when floorboards curl down at the sides (usually due to water damage)
Graying boards
Water staining
Fading (likely from sun damage)
Discolouration
Can I Restore My Parquet Flooring Myself?
Due to the delicate and complex nature of parquet flooring, we would categorically dissuade you from attempting restoration without proper training.
In order to get your flooring looking as good as possible, you must have the knowledge and professional experience behind you. You'll need specialist products and equipment, as well as the patience and stamina to complete the job. With a different wood pattern on each block, sanding parquet can be especially problematic, as you need to sand in the same direction as the grain each time.
It might seem more economical to give it a go yourself, but in the long run, it might cost you much more in time, effort and money, especially if you need to correct any damage from a poorly executed job.
An Unrivalled Floor Sanding Service
If you have an existing parquet floor that needs a restoration or sanding service, look no further than LSJ Floorworks.
Sanding a parquet floor is not like sanding regular floorboards as it requires an expert hand and often specialised sanding equipment. At LSJ, our team is highly trained in every aspect required to deliver world-class sanding to your parquet flooring.
Our team is both friendly and approachable, and we pride ourselves on providing an efficient and effective service that will leave your gorgeous floors speaking for themselves.
Please get in touch today, and we'd be pleased to discuss your requirements.