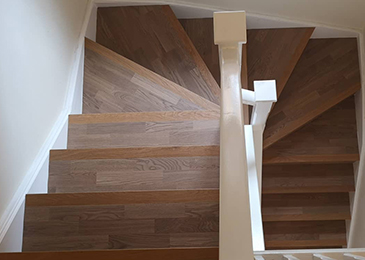 Stair Cladding
Stair Cladding is ideal for transforming your existing staircase into a modern masterpiece. It's a quick and easy way to cover up your current stairs and achieve that luxury home look. Say goodbye to your tired, outdated, existing stairs and welcome a modern stair look into your home!
Why Choose LSJ Floorworks?
Our expert team knows what they're doing when it comes to flooring and stair installation. Using the highest quality low to no VOC (volatile organic compounds) products on the market and non-chemical, environmentally friendly materials, you won't find another team with our skill.
We use the finest German machinery to install all stair parts and stair cladding. We can provide you with a range of treads and risers to suit your individual request, giving you complete control over the cost and style of your new stairs!
Put simply; we can source and purchase the best quality stair cladding materials on your behalf, handle the delivery of all flooring materials and then install your new stair cladding to the highest possible standard. Our ultimate aim is to transform your existing staircase into a smooth, desirable work of art.
So what are you waiting for? Get in contact with us today to find out more about what we can do for you!
What Are the Benefits of Using Hardwood Stair Cladding?
First and foremost, solid oak or any hardwood looks stylish and elegant! Furthermore, it's a reliable and solid surface that won't break or tear away, even after many years of use.
As mentioned before, solid oak treads and risers can be easily fitted over your existing stairs, making it a far more cost-effective option compared to building a new oak staircase from scratch.
Give your existing stairs the face-lift they deserve. Contact us to find out more about installing oak stair cladding into your home so you can finally create the staircase of your dreams!
Stair Cladding FAQs
Do I need to remove all previous carpeting or flooring beforehand?
Yes! All previous covering must be taken off the stairs, and any nails or staples need to be taken out. Then if repairs are needed, take care of them, and this leaves a solid substrate for your new choice of flooring to be fitted and to last for years to come. But of course, we can remove the old floor covering for you if you prefer!
What is a tread?
A tread is the top, or horizontal, part of the stair. Otherwise known as the flat part that you step on!
What is a riser?
True to its name, the riser is the vertical part of the stair that rises from one stair to the next.
Do I have to use oak?
No! You can choose any type of hardwood, solid or engineered material you wish for your new stair cladding. We recommended solid wood or engineered timber.
Do you provide the materials yourself?
It's important to remember that we are contractors, so although we can help you source the best materials for a lower price, our primary job is to install the flooring or stair cladding for you. This means you can either buy the materials separately or allow us to shop on your behalf, but the materials will not be included in the installation cost.