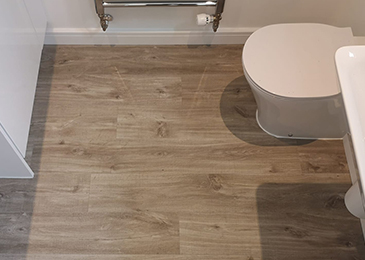 Solid Wood Floor: Wooden Flooring, Scotland
High-Quality Solid Wooden Flooring Fitters, Finishers & Restorations
After many years of experience and countless satisfied customers, LSJ Floorworks is proud to be a leading force in wood flooring in Scotland. Having completed projects all over the UK, we have garnered a reputation for top-notch customer service, quality products and timely wood floor installation.
We pride ourselves on providing and restoring a wide range of wooden flooring. Whether it's parquet, solid or engineered hard wood flooring, we supply materials, installation and restoration of the highest quality available.
Whatever the size of your project, we are confident we can provide you with the outstanding service and products that are now associated with our name. We offer everything from supplying and fitting flooring, flooring accessories to full aftercare for your new floors.
Our team are also specialists in any additional solutions you may need, such as restoration, floor sanding and subfloor preparation. So if you're looking for wood floor fitting and restoration near you, don't hesitate to get in touch, and we'll be there.
Why Invest In Wood Flooring?
We believe your home truly dictates your state of mind. Creating a space you feel comfortable and enjoy being in can make a massive impact on your mental welfare, the functionality of your room and the atmosphere of your home.
Stunning aesthetics
Highly aesthetically appealing, there are few things more timeless than wood flooring. Beautiful and classic, solid wood flooring can elevate and open up a space, whether it's your lounge, kitchen or dining room.
Wood floors create a neutral base for your interiors, allowing you to freely design and customise the rest of your room to your own preferences.
Increased property value
Hardwood floors are incredibly desirable commodities in terms of market appeal. Opting for wood floors can increase the value of your property by thousands; often, more than it cost to install them in the first place.
Easy to maintain and clean
Wood floors are compatible with many kinds of cleaning methods, including vacuuming and sweeping. Of course, the main appeal of hardwood flooring is that any spills can be simply mopped up without staining.
Durable, long-lasting and cost-effective
Unlike more flimsy, germ harbouring solutions, such as carpets, our wood floors are tough and hard-wearing. With the appropriate intervention, they can literally last a lifetime and still look good as new.
Customisable
Even after installation, your wood floors are still easy to customise by changing the finish, which affects the shade and texture of your boards. You can create an entirely different look without the costly and time-consuming process of replacing your floors.
In regards to functionality, features such as underfloor heating or specifically engineered boards can be installed to suit your requirements.
Increased Air Quality
Floorboards will allow air to circulate around your property more freely than linoleum or carpet. They won't collect and absorb allergens like tile.
Our Wood Flooring Products
We have a wide range of floor types available for you to choose from. These include:
Laminate floor
Engineered flooring
Solid wood
Parquet (herringbone, chevron, basketweave etc.)
Sample work is constantly being requested and undertaken.
Restoring your hardwood flooring to its former splendour
If your wooden floor isn't looking as impressive as it once was, it can be tempting to simply replace it with new flooring. However, this costly decision isn't always necessary.
Our team of specialists is available to work their magic on any wood floor that is looking tired, dull or damaged.
Our comprehensive restoration service includes finishing or refinishing, sanding, oiling and general clean up. We can repair any accumulative damage caused by wear and tear, ensuring your floor has a long life ahead of it.
If you choose us, you're safe in the knowledge that your floor will have a new lease of life by the time we complete the job.
Our Values
Our core value is to provide a friendly and professional floor fitting and sanding service using outstanding environmentally friendly products.
We only use the best low to zero Volatile Organic Compound (VOC) materials. VOCs are chemicals that can be released from industrially made products. Although they are found in many household materials, in high quantities (like the entire floor of a room or house!), they can really affect the air quality in your property.
Using low VOCs materials essentially means they are safer for you, us, and your pets. Our products contain no chemicals, such as Isocyanates, that you get from cheap finishes. We use only the finest German machinery in our line of work, and our products are 98% dust-free.
But it's all about the final result. Our highly skilled team of floor fitters will provide you with a smooth and efficient experience, taking the stress out of the process. We are a friendly and approachable team who always centre the customer's experience.
If you have any questions about our service or to talk through the best flooring solution for you, don't hesitate to get in touch.
Wood Flooring FAQs
Why should I hire a professional to lay my wooden floor?
Despite the temptation to lay a new floor yourself, we would never recommend this course of action. In order to emulate a truly professional job, you must hire in flooring specialists who have the expertise and experience to complete a job to the highest standard.
Installing floorboards, especially real wood and/or parquet, is a long, complicated and time consuming process. It takes prolonged effort, strength and skill. You'll even have to complete extra jobs, such as removing and replacing skirting boards and preparing the sub floor; crucial steps that require expert knowledge.
While doing it yourself might seem like an easy way to save money, you're likely to lose out in the long run; not only will you need to buy or hire all the right equipment, safety gear and materials to protect your belongings (such as floor coverings), you might end up paying a fitting service in the end anyway to correct a poorly installed floor.
After many years of experience, we have developed a tried and tested efficient service that is both quick and of the highest quality. We take care of the job from start to finish, meaning you'll have peace of mind knowing your installation or restoration is in the best hands every step of the way.
How do I know when it's time to restore my wooden floor?
You may need seek restorative flooring work if:
Your floor is discoloured
Dull
Scratched
Warping or cupping
Has flaking or peeling finish
Showing distinct signs of wear and tear
Nails are sticking out
Your floor is causing splinters
How do I look after my wood floor?
The key to maintaining a gorgeous wood floor is consistency. With a tiny bit of regular cleaning, you'll add years of use onto your flooring.
When removing dust, use a microfiber cloth or a vacuum cleaner. Don't use disposable wipes, as they can attract more dust.
Cleaning liquids should be used sparingly, as too much moisture can damage your floor. Use no more than a cap of cleaning solution in your mop water, and make sure you wring the mop until all excess water has been removed before applying it to your floor. Clean with lengthwise strokes along your floorboards.
Afterwards, be sure to dry your floor off with a microfiber cloth.
Your floor will require re-oiling every so often – please get in touch for more information as we can provide you with this service.
Get In Touch
Please don't hesitate to get in touch with our flooring team for more information. We look forward to hearing from you.