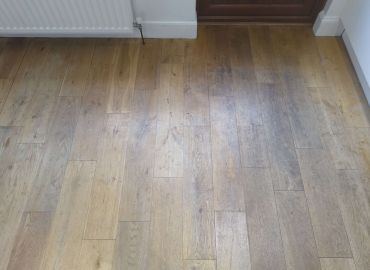 Oak Floor
Oak floors are a popular and desirable addition to any home. For a reasonable price you can turn your old, carpeted floors into a beautiful oak walkway, adding a touch of elegance into your living room or hallways.
However, oak flooring can become worn out and tired looking without proper maintenance. When we first encountered this oak floor, the oak was looking dark, lifeless and a bit unloved. We noticed that the finish was worn through to the timber, giving it a dirty look that no one wants for their home.
We got out our power tools and used our expertise to spruce the oak floor up and get it back to looking as good as new! Using a top of the range planetary sanding machine in conjunction with our dust collector and HEPA vacuum, we went to work on sanding down the floor and brightening the overall look of the oak.
We removed all stains and dark patches to make the oak flooring look as attractive as possible. We added a top-quality, high-performance matt lacquer for a stunning, silky finish to complete the job. As you can see from the pictures below, the difference was immense! The oak floor was left looking like new, with a shiny, glossy look that caught the eye as soon as you entered the room.
If any of your wooden or oak floors are looking a bit worse for wear, get in contact with us and see what we can do for you!
We offer a wide range of services to help renovate your flooring and get them looking back to their very best! Our affordable prices are just a fraction of what you would pay if you were to replace the floor entirely. Don't hesitate to call us up and get a free quote from our friendly team!