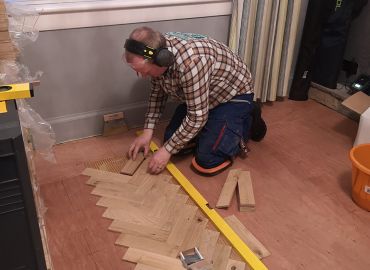 Oak Herringbone Floor
This oak herringbone floor job was one of our favourite times working with oak floors so far. As you can see, the old flooring looked rather dull and boring. The customer was after something a bit more exciting, which is why they opted for this fantastic, unique looking oak herringbone floor to replace the old flooring in both their hallway and inter-connecting living room.
The first task was to uplift the old flooring and lay down a new ply base. After completing the necessary prep for the subfloor, we began to lay the stunning oak herringbone layer on top. The new flooring included a walnut inset at the border, with an eye-catching soldier detail design throughout.
After laying the new flooring, we sanded it down to ensure a smooth finish. We then filled and finished the flooring with a high-quality primer before adding multiple coats of our high-performance matt lacquer. These subtle touches gave the oak herringbone floor that glossy, shiny look you can see in the pictures.
Notice how inviting this gorgeous hallway looks now the flooring has been transformed!
We particularly love the smooth transition from hallway into the living room, with the consistent oak herringbone style running throughout. What a difference it made to the overall look and feel of this happy client's home.
If you are eager to transform your home by renovating the flooring, we are here to help. We can provide you with fresh flooring ideas, suggestions of the best materials for your home or do the dirty work for you and renovate your old floors back to new.
Get in contact with us today to find out more.