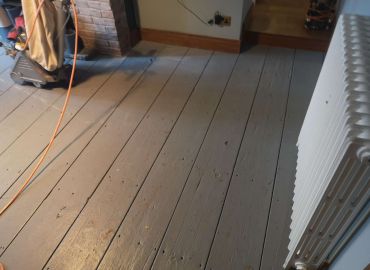 Wide Boards Floor
Wooden wide board floors can be a tricky customer. If left unattended and unmaintained, they can quickly look dull, outdated and unappealing. However, given the proper attention and treatment, they can give your house a fabulous, antique look and add a touch of class to your room or hallway!
As you can see from the photos, it looked far from its best when we first encountered this wide board floor. The boards had been painted and were not in the best of shape. You wouldn't have forgiven the owner for wanting to replace them entirely.
Luckily for this particular owner, they opted to enquire about our services instead. Upon the first sanding, the wide boards revealed themself to be rather elegant, with a super-rich colour and grain to them. We worked away with our top of the range power tools, removing the dirty, worn-out look that initially seemed ingrained into the floor.
After we finished the sanding process, we added a high-performance matt lacquer to give the wide boards a shiny, glossy feel. As you can see from the after photos, the floor was left looking as good as new, with a natural shine and pop added to its appearance.
The difference was quite dramatic, and we were left with a thrilled client and a beautiful, as-good-as-new, wide board floor!
If you have any wooden or wide board flooring in your home that need the same sort of treatment, don't hesitate to get in contact with our team and see how we can help you out. We specialize in a range of flooring and worktop restoration services, so we're here to help whatever your query.
Get in touch today to turn your old floors into wooden works of art!