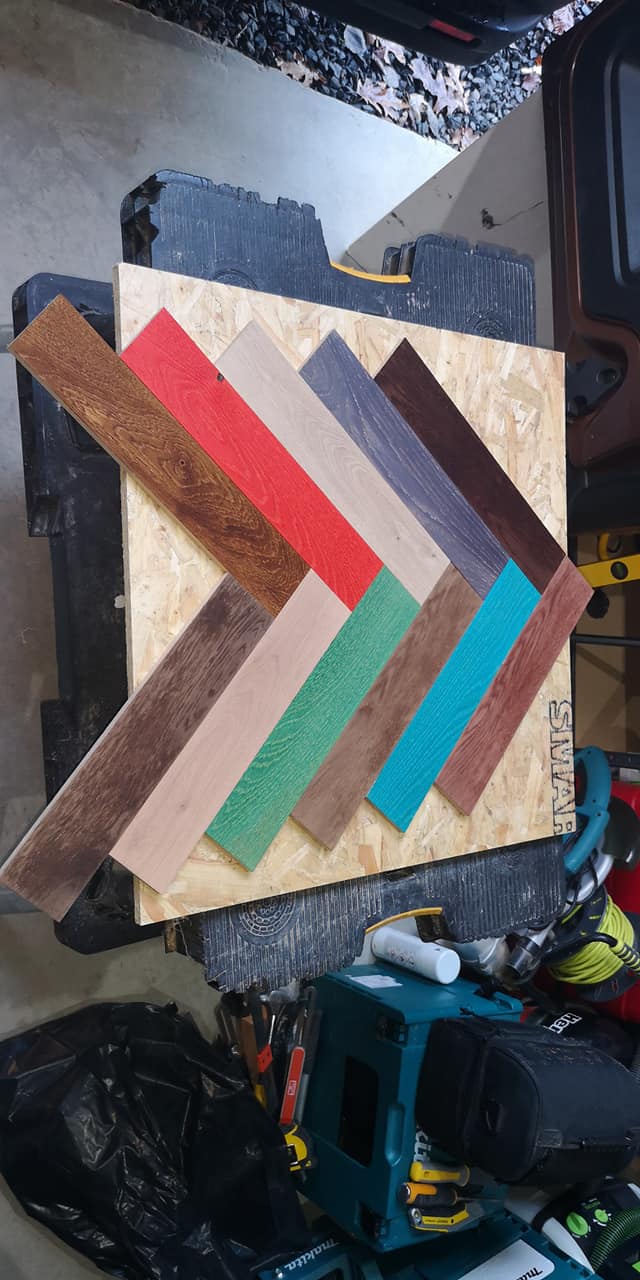 How To Finish Your Wood Floor
There are many different ways you can colour & finish your wood floors. You're limited only by your imagination. Whether you have hardwood floors, engineered wood floors, solid wood or natural wood flooring, LSJ Floorworks can provide and apply the optimal finish to any of your wooden floors.
Adding a stylish, sleek finish to your wooden flooring isn't just for decoration. A properly applied finish will help keep the wood in top condition and will protect the surface of the wood floor from scratches, spills and stains for years to come.
Combine style and practicality by adding a personalised finish to your wood floor.
Get in touch with our experts to talk through your wood flooring options and find the perfect finish for your wood floors.
What Are The Different Types Of Floor Finishes?
There are a range of finishes available to suit your households needs. Some finishes are very low maintenance and are designed for high-traffic households. Other finishes look sleeker and glossier, but wear and tear much quicker.
A lot of flooring nowadays comes pre-finished, meaning the finish will have been applied in the factory and will be laid down in your house already finished. If you choose to go for a more traditional wood flooring, it's likely that your wood floor will be finished on-site, which is a service LSJ offers, and is one we recommend to give greater control over the style of your flooring. Flooring specialists like LSJ can also provide refinishing, meaning we will come out to refinish your floor if it needs an update, a change or some TLC.
Regardless of whether your floor is pre-finished or finished on-site, there are four main types of products that are commonly used for floor finishes. These are: water-based polyurethane, oil-based polyurethane, oil, and wax.
Although these basic products are a great choice for most wood floors, LSJ Floorworks offers bespoke floor finishes to give our clients greater choice over the look of their floors.
Get in touch today to discover more about the floor finish options we offer.
What Finish Is Best For Wood Floors?
Polyurethane flooring finishes are one of the most commonly used finishes for wood floors. This is due to it's ability to withstand a high-volume of foot traffic and resist stains, scratches and spillages to a high degree. Polyurethane finish comes in 2 main types; water-based & oil.
Other popular wood flooring finishes are an oil finish and a wax finish. Both of these have a range of samples, colors and styles available, all of which can be supplied and applied professionally by LSJ Floorworks
Lye and soap is another finish, which are still used on parquet, solid wood and engineered floors and are particularly popular throughout Scandinavia. These finishes have been protecting floors for generations. This type of finish looks particularly stunning on Douglas Fir floors as it gives a super soft looking, buttery, elegant finish to the wood flooring.
Some floor finishes need a little more care and maintenance than others to keep them looking their best. At LSJ Floorworks, we're always on hand with advice, maintenance products and maintenance plans to suit your needs and your budget. So whether you're looking for a simple refinish or a full floor installation process, we have the skills to cater to you.
Get in touch today to find out how we can provide an expert flooring service to suit you.
Oiled Wood Flooring
Giving your floor an oiled finish is a popular choice among consumers. Not only do oiled wood floors provide a sleek, shiny look, but they are extremely resistant to scratches and have a fairly low-maintenance upkeep. An oiled finish helps highlight the natural wood grain and develops in character as time goes on.
Oiled floors do require top-ups periodically, but these are fairly simple to apply. Plus, if any damaged has occurred to your wooden floor you can simply add an extra layer of oil on top without having to sand down the wood floor first.
Due to the range of oil types available for wood floors, you can even add a touch of color or staining to give your floor a unique look that stands out. LSJ can provide high quality colour oils, tinted oils or hard wax oil that fits your style and taste.
We love experimenting with new combinations and fresh products, so whatever ideas you may have, feel free to discuss them with our friendly team.
Lacquered floors
Lacquered floors are a very solid choice when it comes to popular wood flooring finishes. A lacquered finish can come in a range of styles and sheen level, from ultra matt lacquer to high gloss.
A high gloss finish provides a shiny, smooth finish to a wood floor, giving a very polished a clean look. High gloss or semi gloss looks are slightly less natural looking than other finishes, but are seen as stylish and modern.
A matt lacquer finish will provide a slightly more subtle shine to your wooden floors. This helps the wood have a more natural looking finish and looks similar to an oiled finish in appearance. A matt finish helps highlight the natural beauty of some woods, Mahogany being the best example as light will reflect off the subtly shined wood and enhance the rich textures and colour.
However, unlike an oiled finish, which seeps into the wood directly, the lacquer sits on-top of the wood and dries to the surface. This can cause an issue if the wood floor becomes badly damaged or scratched, as the floor will need to be sanded down and the lacquered finish will need to be reapplied fully. Unfortunately, a lacquered finish also provides less protection to scratches compared to an oiled finish, which is something to consider if you live with children or dogs.
Similar to oiled floor finishes, lacquered wood flooring finishes also come with a few options that can add some colour and personality to your wooden flooring. LSJ can provide both clear lacquer and tinted lacquer to give your wood floor a colourful finish that fits with the style and look of your house
Finishes To Meet Your Needs